MEDIA RELEASE ON THE NSFAF AND BANK WINDHOEK PARTNERSHIP
Categories

News

Date

April 18, 2019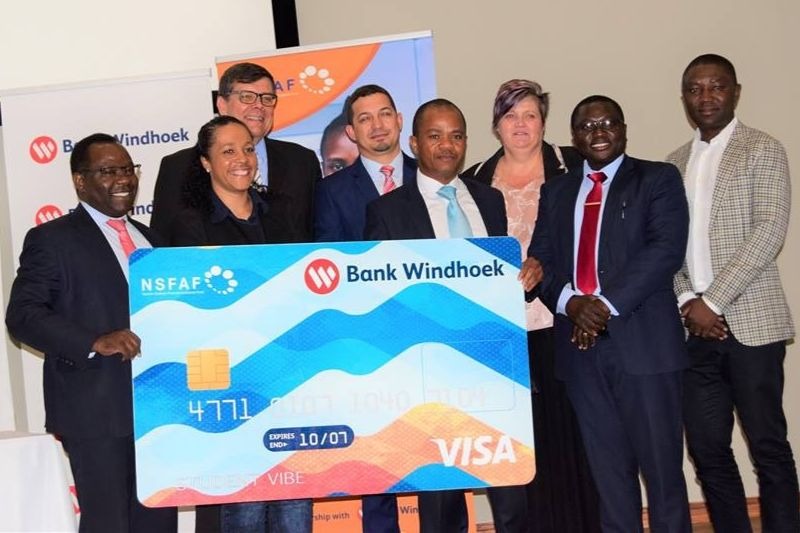 The Namibia Students Financial Assistance Fund distributed N$1.2 billion, on average to over 40 000 students on a yearly basis, for both tuition and non-tuition fees. The Fund, however faced challenges in finding the best methods to transmit money to its beneficiaries. This was aired by NSFAF Acting Chief Executive Officer, Mr. Kennedy Kandume during the official launch of the NSFAF Payment Card Solutions with in collaboration with Bank Windhoek on the 18th April 2019.
"We reached out to the market to request proposals from Banking Institutions on the best possible methods of student payments, which resulted in the partnership with Bank Windhoek to provide 'Students payments Solution Services", Mr. Kandume stated.
The partnership with Bank Windhoek will not only link the distribution of funds to National Payment Systems, but also allow access to other Bank's ATMs and Point of Sale through NamSwitch.
Speaking on behalf of Bank Windhoek, Mr. Chris Matthee, Executive Officer of Retail Banking Services indicated that this is a journey and a partnership between Bank Windhoek, a wholly owned Namibian financial service provider and proud member of Capricorn Group, and the Namibia Student Financial Assistance Fund. Bank Windhoek's role in this partnership is to be a conduit through which NSFAF enables the disbursement of funds to students who have been awarded financial assistance for tertiary studies."
The NSFAF Student Account incorporates access to services such as Cellphone Banking, the Bank Windhoek Mobile App, being able transfer funds through EasyWallet transactions and having access to a network of more than 300 ATMs and 54 Bank Windhoek Branches countrywide. An additional benefit is the VISA linked Bank Windhoek NSFAF co-branded card that enable students to do purchases and withdraw cash at outlets and ATMs across the globe, displaying the VISA emblem.
NSFAF is pleased to note that students will be issued with VISA Branded Card, which will enable them to withdraw money at any Visa branded ATM , or Points of Sale world-wide, which will work well for all beneficiaries.